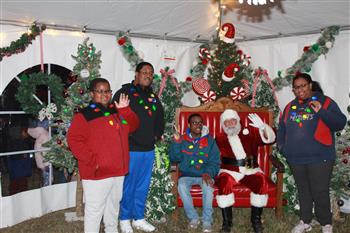 MWR NAS Patuxent River and NRC Solomons will be making spirits bright with several events designed to spread cheer during the holidays.
The season will kick off with the annual Tree Lighting on Friday, Dec. 1 from 5-8 p.m. at the Community Recreation Office at the corner of Keane and Cedar Point roads.
The all-ages event, which is free and open to anyone with base access, will include a lighting of the tree on Cedar Point Road, the arrival of Santa Claus via helicopter, skating on an iceless rink, crafts and more. Call 301-342-3648 for more information.
Those interested in wrapping up their holiday shopping will want to visit the Arts & Crafts Festival on Saturday, Dec. 2 from 10 a.m.-3 p.m. at the Drill Hall. The fair will feature dozens of crafters selling unique, handmade items. The event is free to attend and is open to all with base access. Call 301-342-3648 for more information.
NRC Solomons will hold its annual "Cookies with the Clauses" Dec. 8-10 at the installation's Club 9. The event includes cookie decorating, photos, hot cocoa and apple cider bar, crafts, stories and singing, a personalized ornament for each child and a Christmas goodie bag. The cost is $10 per person for adults and children ages 2 and up.
Seatings will be held Friday, Dec. 8 from 6-7:30 p.m. and Saturday, Dec. 9 and Sunday, Dec. 10 from 11 a.m-12:30 p.m., 1-2:30 p.m. and 3-4:30 p.m. Reservations can be made Nov. 13-Dec. 4 by calling 410-326-6747 and are available for all with base access.
The Strike Zone Bowling Center encourages patrons to decorate a pin as their favorite holiday character or theme for the Winter Pin Drawing. Pins returned by Dec. 8 will be entered to win a free hour of bowling and other goodies. The winner will be chosen on Dec. 22. Please note that reservations are required for bowling – call 301-342-3994.
Travel with MWR Community Recreation on Saturday, Dec. 9 to experience Kings Dominion's WinterFest celebration. WinterFest features festive décor, ice skating, millions of Christmas lights, seasonal food offerings and live entertainment. Select rides and attractions also will be available.
The cost, which includes a park ticket and transportation, is $20 for E1-E6 Active Duty and $50 for all others with base access. Register in person by Dec. 5 at the Tickets and Travel Office. Call 301-342-3648 for more information.
The Drill Hall will host a "Liftmas" lifting party on Friday, Dec. 15 at 4 p.m. This free event will feature three weight lighting challenges: rising bar deadlift, keg carry for distance, and rising bar log clean and press. This event is open to all eligible Drill Hall patrons, who can register at the Drill Hall in person or by calling 301-757-3943 through Dec. 13.
Take a visit to Whoville as the Indoor Pool at the Drill Hall celebrates "Grinchmas" on Saturday, Dec. 16 from 3-5 p.m. Enjoy photos with the Grinch, "Selfie Stops" throughout Whoville, arts and crafts, pool games and activities, and a "Stink Stank Stunk" Christmas sweater contest with prizes for the Best Family, Funniest, and Most Creative/Unique. The event is free for Active Duty and dependents, $7 for authorized pool patrons and $8 for guests. Pre-registration is required - call 301-757-3943 or stop by the Drill Hall Monday-Friday, 9 a.m.-4 p.m.
The Exceptional Family Member Program and USAA (no Navy endorsement implied) will offer a free sensory-friendly holiday PJ's & Popcorn Movie Party on Saturday, Dec. 16 at 4:30 p.m. at the Center Stage Theater. A family movie will be shown with the lights up and sound down, and a free small popcorn and hot cocoa will be served to the first 50 in attendance. The event is open to all with base access. Call 301-757-4080 for more information.
The MWR Liberty program will participate in Wreaths Across America Day on Saturday, Dec. 16. Active Duty E1-E6 are invited to remember and honor fallen veterans by placing wreaths at the grave sites at Arlington National Cemetery.
Van transportation will be provided and will depart from the Unaccompanied Housing parking lot at 6 a.m. In-person registration at the Community Recreation Office is required by Dec. 14. Call 301-342-3648 for more information.