Fleet & Family Support Center Pax River
HPCON ALPHA UPDATE
The Family Support Center staff is back in full-force and are offering in-person appointments for every program, and virtual appointments will remain available as well if a customer is not comfortable coming in.

Small group in-person classes are also resuming with a maximum of 12 participants per class.
In-person TAP classes will resume the third week in July but will be limited to 12 participants and the virtual option will
also remain available.
New Parent Support Home Visitation services has resumed in-home visits with mitigations in place per Public Health guidance.
Please call 301-342-4911 for more information and assistance.
For emergencies, please call the Command Duty Office at 301-342-1095.
_______________________________________________________________________________________________________________
The Fleet Family Support Center, located in Building 2090 on Bundy Road, recognizes that being military is a lifestyle that presents unique challenges and opportunities for service members and their families.
FFSC programs are intended to help make the most of military life. Workshops and seminars are opened to active-duty and retired military personnel and their family members, and if space is available, DoD Civil Service employees, their spouses and contract employees. The workshops and seminars are organized and facilitated by the professional staff of the FFSC as well as professional educators within the local community.
View Our Individual Programs & Support Services Here
Upcoming Virtual Fleet & Family Support Programs
Fleet & Family Support Center will be open for Appointments only on July 1, 2020. Customers may schedule an appointment by contacting us at (301) 342-4911. All services offered by the FFSC will also continue virtually.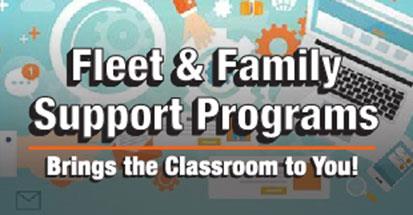 New to the Navy App
The New to the Navy mobile application is for Sailors (Enlisted and Officers) who are fresh out of Boot Camp or Officer Candidate School and ready to report to their first command. The app answers common questions new Sailors may have on pay and personnel matters as they transfer to a school or to their duty station. Available for Apple and Android devices.